Our Recent Press Releases
Inauguration of the New Welcoming Center "Aldea Arcoíris" in Guadalajara, Mexico
Guadalajara, Mexico, November 13, 2018 – On November 9, 2018, the new Scalabrinian Welcoming Center "Aldea Arcoíris" was inaugurated in the neighborhood Álamo Industrial, Guadalajara, Mexico. The Auxiliary Bishop of Guadalajara, Bishop Juan Manuel Muñoz Curiel, blessed the new Welcoming Center. The Center has the support of the business sector of Jalisco, above all, Corporativa de Fundaciones, as well as a group of industrialists who will facilitate training and a job exchange.
The new Welcoming Center in Guadalajara is designed to help migrants and deportees to certify their professional skills and to insert themselves in a stable and regular job. The location has the capacity to permanently serve 40 people with lodging and more than 150 with training courses in refrigeration, electricity and other skills.  Continue reading Inauguration of the New Welcoming Center "Aldea Arcoíris" in Guadalajara, Mexico →
The Non-Militarization of Borders and the Right to Migrate as a Human Right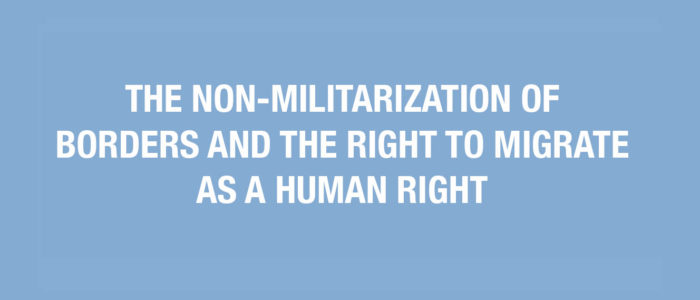 Guatemala, October 23, 2018
To the Government of Honduras, the immediate cessation of repression against the Honduran people fleeing poverty and violence on the border of Honduras and Guatemala. We strongly condemn the deployment of the military, the laying of electrocuted barbed wire and snipers.
To the government of Guatemala, we condemn the exaggerated force through the Army and the PNC in the containment of migration flows. We demand the immediate release of national roads from the competent authorities for the movement of people and goods. No more violations violating the right to migrate and free movement, respect to the Migration Code.
Continue reading The Non-Militarization of Borders and the Right to Migrate as a Human Right →