Our Recent Press Releases
UNHCR and SIMN Sign Agreement to Foster Refugee Protection and Solutions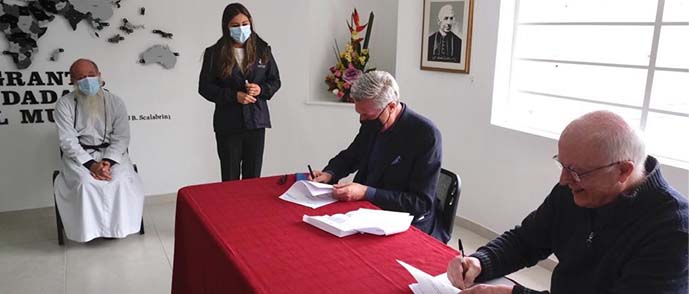 Bogotá, Colombia, February 10th, 2021 – UNHCR, the UN Refugee Agency, and the Scalabrini International Migration Network (SIMN), have signed a memorandum of understanding (MoU), formalizing a long-standing partnership.
The agreement which was signed on Tuesday at one of the SIMN's shelters in Bogota, strengthens the decade old collaboration and places particular emphasis on the provision of emergency assistance and shelter. It also focuses on education, public health, and protection services along key routes in border areas where displaced populations pass through. Continue reading UNHCR and SIMN Sign Agreement to Foster Refugee Protection and Solutions →
Declaration of the Migratory Crisis of Venezuelans on the South American Borders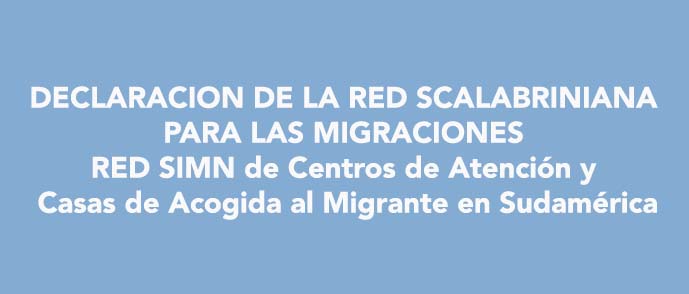 Santiago, Chile, February 8, 2021 – The Scalabrinian Missionaries, Directors of the SIMN NETWORK of Migrant Centers and Shelters in South America, meeting virtually, declare their deep concern and solidarity for the situation experienced by thousands of Venezuelan migrants in the communes of Colchanes, Huara, and Iquique, north of Chile and border with Bolivia.
Desperate by the social, economic, and political crisis, the health emergency of Covid 19 and deceived by networks of human trafficking and smuggling of migrants, hundreds of men, women, and children are stranded in the city of Colchanes and other border cities on its way to Chile after a long journey in fleets or walking through the countries of Colombia, Ecuador, Peru, and Bolivia, without having been intercepted or supported by any authority in these transit countries. Continue reading Declaration of the Migratory Crisis of Venezuelans on the South American Borders →