The work of the Obra Social Scalabrini and the Scalabrini International Migration Network (SIMN) in Venezuela, inspired by the legacy of Saint John Baptist Scalabrini, aims to safeguard and promote the rights of migrants, refugees, and other people on the move globally. The Scalabrinians offer a range of programs with a human-centered approach, providing support and assistance to underserved populations affected by humanitarian crises. They also focus on integration, research, and advocacy for migrants and their families. For decades, and to date, in response to the challenging situation in Venezuela, the Obra Social Scalabrini has been providing critical services, including access to healthcare, nutrition, and emergency assistance to vulnerable communities. To further strengthen their impact, the missionaries seek support and partnerships to continue extending their mission of empowering lives with hope and dignity.
"On family Sunday, it was possible to see many boys and girls who were crying because they were going to do artistic presentations and their parents were not there. Their grandmothers told them that they were recording and taking photos to send to their parents. It is in those moments that we can see the scars of the Venezuelan migration, the scars of those who stay here, those left behind. It was very difficult to see how the children cried because their artistic representations showed the traditions of those countries where their father or mother had migrated. On the other hand, they were the returnees, some excited because they were making the stuffed potatoes that they had learned in Colombia. Interculturality in such depressed neighborhoods, you can see people living it in their own history. The power of these sharing spaces and activities is greater, and people did not want to leave."

Programs Coordinator

Obra Social Scalabrini, Valencia, Venezuela.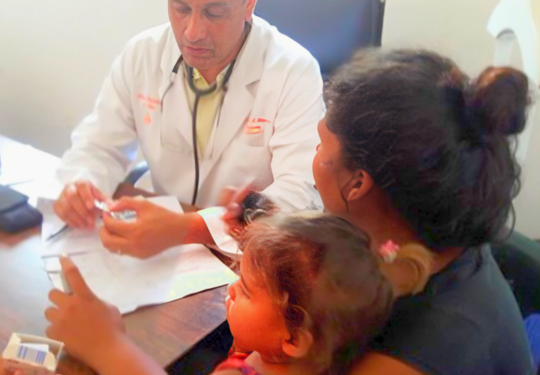 The number of forcibly displaced individuals worldwide has surpassed 110 million, with Latin America accounting for approximately 20% of these cases. Venezuela's ongoing political, social, and economic crisis has led to a mass exodus of its citizens, resulting in millions seeking refuge in other countries across the region. The challenges faced by Venezuelan migrants and particularly those left behind in local communities in Venezuela, remain daunting. Scalabrinians on the ground witness the devastating impact of this situation, with thousands of families struggling with food shortages, limited access to essential goods and services, and severe nutritional issues, particularly affecting children and the elderly. The lack of mental health support for Venezuelan migrants exacerbates their already vulnerable situation, and the plight of children left behind while their parents migrate remains a pressing concern.